If you're thinking of entering a career in ehealth / digital health, obtaining a professional graduate degree is highly desirable - not only does it offer you experience in this field through internships / practicums, but also it surrounds you with colleagues who share your same interest in healthcare IT.
There are multiple options for a master's degree in healthcare IT in Canada, two of the most frequently cited are McMaster's MSc ehealth and UofT's MHI. In this article, I'll compare these two programs and share with you some of my thoughts.
I am personally a graduate of McMaster's MSc ehealth program, so I can speak more in-depth about that program – but I have also chat with several UofT MHI alumni about their program, and have personally done some research on it. Back when I was applying, I was offered to both UofT MHI program and Mac's ehealth, I ended up accepting Mac's offer.
Here's a quick side-by-side breakdown of general information about these two programs
McMaster MSc ehealth*
Univ of Toronto MHI*
Length of program
16 – 24 months
16 months
Entering class level
Entry – intermediate
Entry – intermediate
Courses

8 courses + scholarly paper
OR 5 courses + thesis

16 courses
Full-time / Part-time
Full-time and part-time options available (most students are full-time)
Full-time only
Industry experience

8 months internship
OR 8 months thesis research

4 months practicum
Tuition

$2,165.47/term (domestic)
$6,000/term (international)
Plus $1,500 internship fees
In 16 months, it works out to be approx. $10,161.88 (domestic) and $25,500 (international)

$10,070/year (domestic)
$39,680/year (international)
In 16 months, it works out to be approx. $13,427 (domestic) and $52,906 (international)

Funding
Access to many scholarship and internal funding opportunities
Vector Scholarship in Artificial Intelligence
*For simplicity, we will not discuss Mac's part-time ehealth and UofT's eMHI program, these are options geared towards already working professionals for advanced training and a graduate degree to boost their credentials.
McMaster's ehealth program has two options, course-based or thesis-based. In course-based option, you complete 8 courses and 8 months of internship then write a scholarly paper (a short form of a thesis) to complete the program – this can often be achieved within 16 months. In thesis-based program, you take 5 courses then complete either 8 months of thesis research or 8 months of internship to complete the program – this usually takes longer than 16 months but less than 24 months. So at Mac, the length of program can range between 16 months to 24 months based on if you're enrolled in course-based or thesis-based option (your own choice) and how fast you can complete your scholarly paper or thesis. In contrast, UofT has a flat 16-month program, so you are guaranteed to graduate faster and start working earlier.
From experience, most course-based students at Mac ehealth can graduate within 20 months, some 16 months, and thesis students usually graduate within 24 months. So if you want to graduate fast and start working, you should choose the course-based option at Mac. Most people do choose this option.
However, I think there is an extremely important criteria in considering a program, and that is the industry experience component. For Mac, it's the 8-month internship, for UofT, it's 4-month practicum. Take a look at figures below for the program structure of both schools: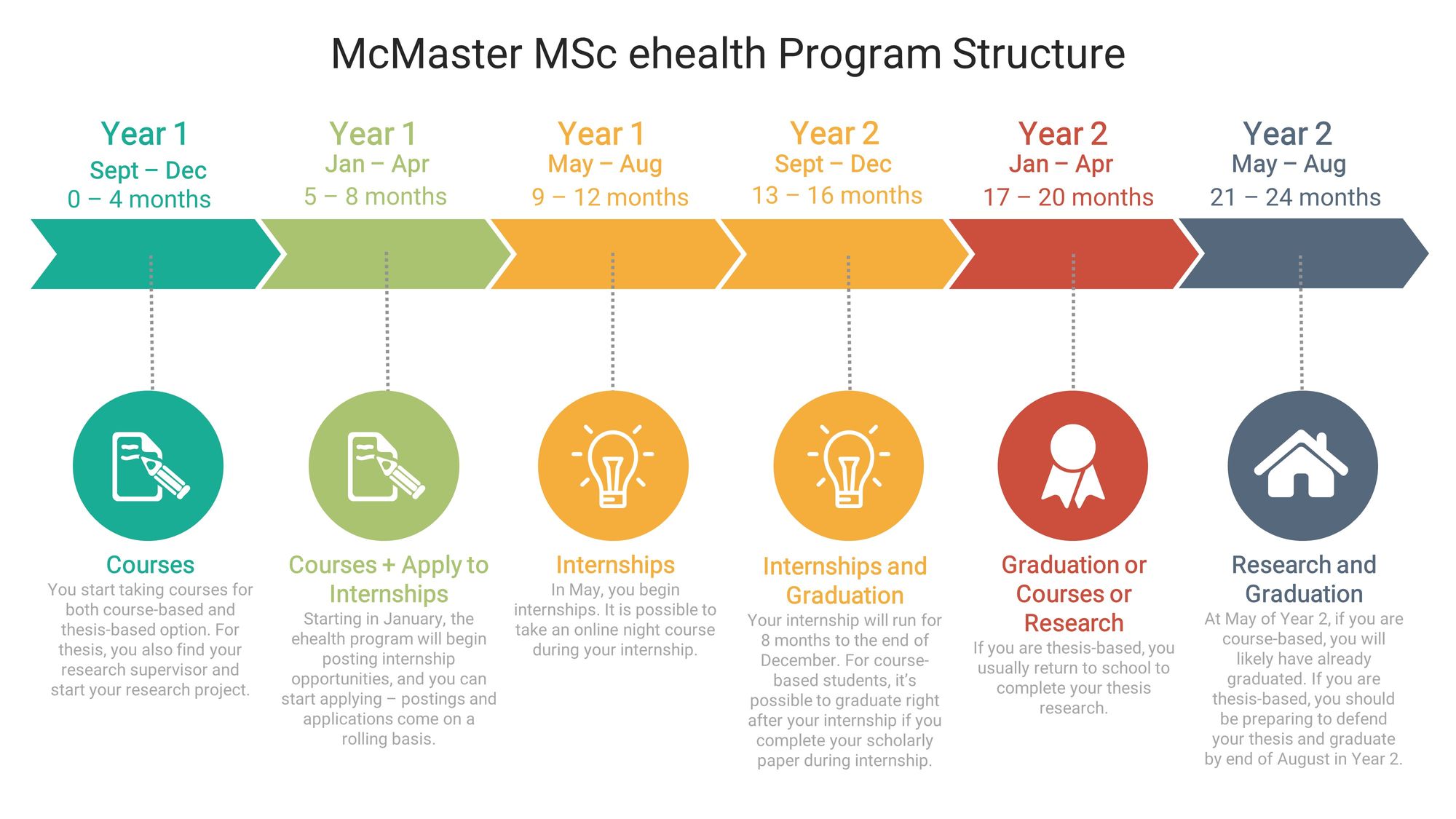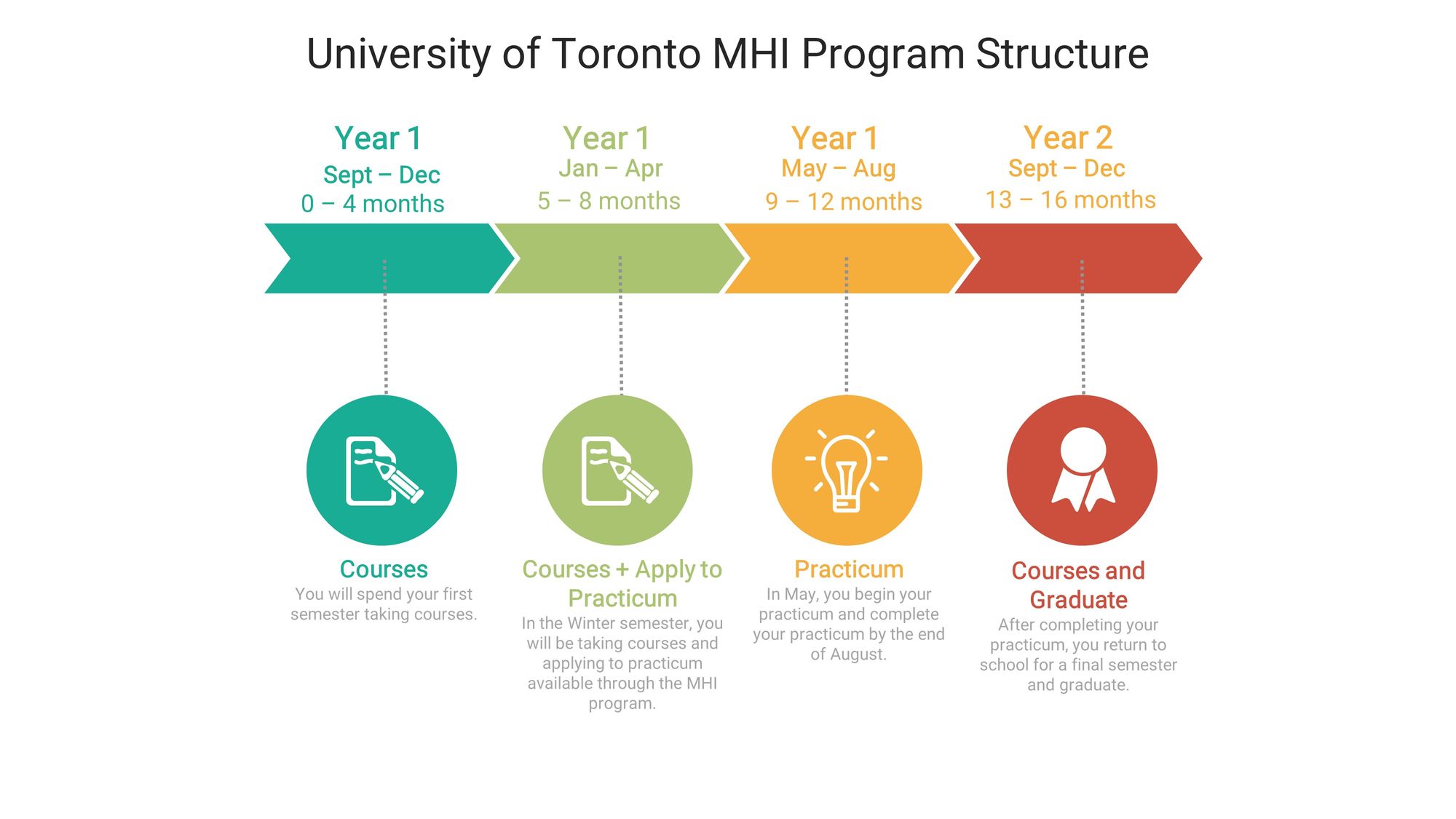 One of the most important value of these professional grad programs I found was being able to stay where you interned after graduation. When that happens, admission into the grad program essentially equates to employment (with a grad degree as a bonus). If you look closely at the structure of Mac vs UofT programs, this is more likely to happen for Mac.
You begin both programs in a similar fashion – take courses in the first semester then take more courses and apply to internship / practicum during your second semester. At UofT, you will be in the industry for 4 months vs 8 months if you're at Mac. If you've ever done a co-op or internship before, 4 months isn't long enough to really accomplish much – 8 months is just right to learn hands-on work in-depth plus make good meaningful contributions. The longer you intern, the better the team you intern with will get to know you, the more you can contribute and show your value, the more confident and therefore likely your team will extend you an offer for full-time.
Moreover, for Mac, it is possible to graduate right after your internship without going back to class. In so doing, it gives you the opportunity to continue your work at your internship organization in a full-time staff capacity. Whereas at UofT, the program is structured for you to go back to class after practicum for 4 more months of courses making it more challenging to continue to work where you had your practicum. From experience, I've seen many of my Mac colleagues complete the degree right after their internship and continue as a full-time staff at where they've interned. That said, this is still possible for UofT, but the MHI program structure makes it more difficult.
Both Mac and UofT have overlapping internship/practicum locations – although they may change from year to year. At Mac, there was CAMH, Canadian Space Agency, eHealth Ontario, UHN, Hamilton Health Sciences, St. Joe's Hamilton, etc. to list a few. You'd expect similar places at UofT. In fact, some of my colleagues from Mac have interned side-by-side with practicum students from UofT MHI.
In terms of courses, Mac has a much lighter course load than UofT. Even for the more "heavier" course-based option, you only take 8 courses total whereas at UofT, you need to complete 16 in order to graduate. The lighter course load at Mac enables you more free time to participate in more extracurriculars (my classmates were involved in many clubs and sat on committees for various organizations - ie. Emerging Health Leaders, Hacking Health Hamilton to just name a few). For me, the additional free time has given me the opportunity to start my own health analytics startup – together with my teammates (one from Mac MSc biomed engineering, another from Mac health sci), our startup won first place in Mac's annual startup competition – and brought home a grand prize of $20k. At UofT there is still an extracurricular life, but the heavier course load will make it more challenging.
At the time of admission, one of the reasons why I chose Mac was because I was offered full scholarship while UofT offered no funding at all. Another reason was that I felt the longer internship at Mac to be highly attractive – offering more hands-on work experience. As an added bonus, the lighter course load at Mac enriched my extracurricular life. That said, access to the large network of hospital affiliations at UofT and access to more variety of lecture materials and faculty instructional time is definitely a plus for UofT.
Overall, I feel both programs will prepare you well for a professional career in digital health. Both degrees are well recognized and respected in the industry. Alumni from both programs end up working at same organizations in similar roles. In fact, at where I am currently working, there's graduates from both Mac MSc ehealth and UofT MHI. There's pros and cons to both programs. So at the end of the day, it's really a personal preference which pathway you feel is more suitable for you to jumpstart a professional career in healthcare IT.
Applying to MSc ehealth or MHI? Check out my admissions strategy guide and 1-on-1 application editing.
Related Article: Career Paths for ehealth, Digital Health, Health Informatics Professionals